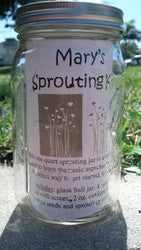 Mary's Sprouting Kit and Sampler
$ 30.50
This one quart sprouting jar is everything you  need to learn  the basic aspects of sprouting.   A perfect way to get started.
Includes:   Wide-mouth glass sprouting jar (quart size),  lid & screen, and detailed sprouting instructions.
Also includes 4 - 2 oz.  Organic sprout seed packs, one of EACH variety:   Alfalfa, Broccoli Salad Mix, Mung Bean and Mary's Protein Power Mix
Check out our Nutritional Info for SPROUTS article

Choose from 1 or 2 kits!  
Includes detailed sprouting instructions.