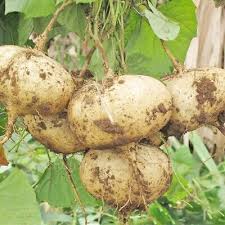 Jicama
$ 3.00
Plant produces tall climbing vines and a white turnip shaped root that tastes like water chestnuts. The large tuberous roots can be eaten raw or cooked and are used as a source of starch.
The Jicama plant is a vine which grows to a length of 20 feet or more. The roots are light brown in color, and may weigh up to 50 pounds. Most of those on the market will weigh between three to five pounds.
Store in cool dry place after harvest. Excellent choice for home gardens and market growers. A variety from Dzan, Yucatan, Mexico

Caution: The seeds and pods are poisonous! Only use the roots.
Latin Name: Pacchyrhizus erosus

Days to Maturity: 120-150

Contains 15 heirloom seeds
*NEW ARRIVAL* for 2020
Related Products