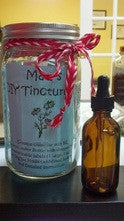 Hawthorn Berry Tincture Kit, Organic
$ 15.25
Single Herb Tincture
Contains dry Organic Hawthorn Berries

In a study about Hawthorn, researcher found "There was a significant change on the weight loss, BMI change, blood pressure decrease, glucose, cholesterol, trigliseride, LDL, HDL and cholesterol/HDL after consumption of Hawthorn vinegar"
The antioxidants in hawthorn are thought to boost heart health by strengthening blood vessels and stimulating blood flow. Keep in mind that scientific support for the potential benefits of hawthorn is limited. 
Hawthorn is also used for digestive complaints.  It is also used to reduce anxiety, as a mild sedative and for menstrual problems.
DIY Tincture Kits include:
1-32 ounce glass jar with lid, 1- 2 ounce Amber bottle with dropper top, 2 customized labels, 1 ounce of Organic Herb of your choice (additional herbs available) and Instructions