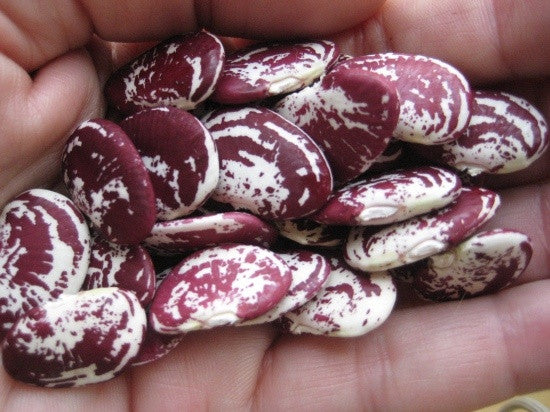 Christmas Pole Lima Bean
$ 3.00
95 days. Very large white beans with beautiful, dark red splashes, rich flavor; heavy yields even in very hot weather; long vines.
This heirloom lima bean was first cultivated in the United States around the year 1840 and is also known as "Large Speckled Calico" lima.
Lima beans were domesticated in the Andes around 2000 BCE and in Mesoamerica almost 3000 years later, resulting in the Sieva type. It wasn't until the 1500s that limas were being grown in Europe and the Mediterranean regions.

Contains 15 heirloom seeds
BACK IN STOCK for 2023
Related Products
Low Yields/Heavy vegetative growth
I planted 4 plants, 2 on each end of a 30 fence. They grew rapidly and initially produced some really tasty beans. Since then, they have continued to grow aggressively and though flower have few if any pods maturing. I have had to cut them back several times to liberate my pineapples where the fence turns at the corners. I'm in subtropical Hawaii and have heavy rainfall. Plants are robust and get occasional 10-30-10 fertilizer applications. Are these pants day light time sensitive? Maybe they will start forming pods as the days lengthen..Hope so. Any tips??
Hi Steve. Heavy growth with low yields are usually associated with too much nitrogen. You are probably fertilizing too much so the plant is producing beautiful vegetation and not enough flowers. Another issue might too much rain as you mentioned or too warm
Creamy, delicious, beautiful-so much better than a lima
I don't like limas but I love these. As another reviewer mentioned they have a chestnut flavor and a creamy texture, not like the gritty green ones. The vines are long and prolific. They fill their half of the cattle panel arch and overrun the Trail of Tears on the other side. You may only get 2-4 beans per pod but there are so many of them it's worth it. They're so beautiful and delicious just a simple preparation is best to let the flavor shine.
High productivity
Amazing grower here in central Florida. Its November and I'm still getting bean production. Highly recommend if you like lima beans...
You MUST try these beans!
When I was a child, a few times each year my mother would serve pale green, starchy lima beans as a side dish at dinner. Oh, how my siblings and I dreaded those awful things! The flavor, texture, smell--YUCK! When I saw these beans on Mary's website I was dubious but decided that it could be a healing experience. Well . . . the deck was stacked against those beans. First of all, I planted them rather late (maybe July) and secondly I planted them with my luffa vines which had just started to gain steam. Within a few weeks of planting I shook my head and figured they'd never be able to compete with those gourd vines. But lo and behold, pretty late into autumn I started to notice the huge dried pods. I ended up with almost a quart of the most beautiful, rich and delicious beans I've ever tasted. They taste like buttered chestnuts. I served them on Christmas Day and everybody LOVED them. I really should post the link to the recipe I used because it was super easy and really let the flavor and creamy texture of the beans shine. Here's what I'm going to do at planting time: set an old bicycle wheel (I trash-picked a couple recently) on top of a pole, run rope down from the wheel to the ground and plant the whole contraption with Christmas Lima Beans. I think I owe that to them . . . and to myself!