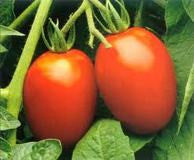 Roma Tomato
$ 2.00
70-80 days.  Determinate.  Famous pear shaped fruits that bring to life any Italian dish.  Roma are noted for the juicy paste and few seeds that come from this time tested tomato.


Roma is a mid-season crop that ripens within a 2-3 weeks period for an easy harvest.


Contains 25 heirloom seeds    
Related Products
Buried in tomatoes!
I bought a packet of Roma tomato seeds late last year. First off, EVERY single seed germinated, and after protecting them from winds and cold, I finally got them into my garden in spring. And they are producing now..and boy are they producing!! I am harvesting 3 lbs every single day, and it's not even close to the end! And they are delicious - sweet and tart at the same time, very disease and bug resistant (I do 100% organic gardening with no pesticides or chemicals). Mary's seeds have made me a very happy gardener!
Very good
This plant really took me by surprise. I'm not new at growing Roma Tomatoes by any means. I had a volunteer Roma plant this year that was tossed into my cherry tomato bed from last years harvest. As usual, I let it grow not knowing it was a Roma. This plant took off within a month and I found it odd to have grown so quickly compared to my other cherry tomatoes. So, I bought the biggest tomato cage out there and cage that sucker with joy of lots of cherry tomatoes to come. At the 2 month mark I realized this ain't no cherry tomato plant cause the leaves were entirely to big. I got lots of compliments on how healthy and lush it was that's for sure. Then came the flowers and the tomatoes. Lots and lots of Roma's. So much that it literally broke my new tomato cage on the bottom first two rings. I've had to rig that cage every which way I can till the harvest is over. When it says a heavy producer take it seriously. First Roma plant variety out of 10 years that's broken a tomato cage on me. The tomatoes do fall quick before they're fully red and some do fall while green. I'm learning to just pick them green cause the turn red quickly after.
Excellent germination
So happy with these seeds. I planted 16 seeds from the lot and ALL sprouted within 3-5 days and have rapidly grown, even in our South Florida heat. They continue to grow and thrive, and not leggy. Can't wait to transplant them and then harvest.
Great producer
These were great small compact plants that produced heavily for us. But at 85-90 days only a few have ripened and we had to pick most of them green. This may be due to our summer weather this year though.