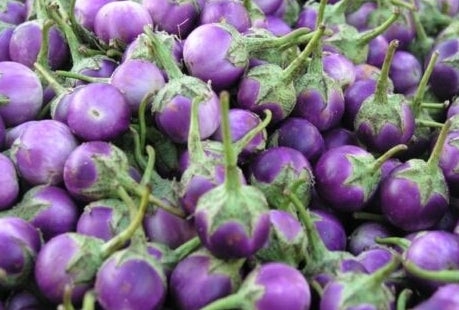 Round Mauve Eggplant
$ 2.50
65 days. Solanum melongena

This compact plant produces good yields of beautiful 3 to 4" round mauve eggplants. The flesh is white, tender, and not bitter. Perfect for grilling, frying, stuffing, baking, pickling, and gourmet dishes.
Round Mauve eggplant is an excellent choice for container gardens.
Contains approx. 20 heirloom seeds
NEW ARRIVAL for 2023
In cooler climates, Remember to germinate seeds at about 70 degrees in the greenhouse or inside. Transplant when all danger of frost has passed.
Planting Instructions: Seeds can be sown in cool or warm conditions, covered very lightly (depth of ¼ inch) and kept reasonably moist until seedlings emerge. 
Plant or thin seedlings 6-12 inches apart. Can be grown in containers.
Related Products