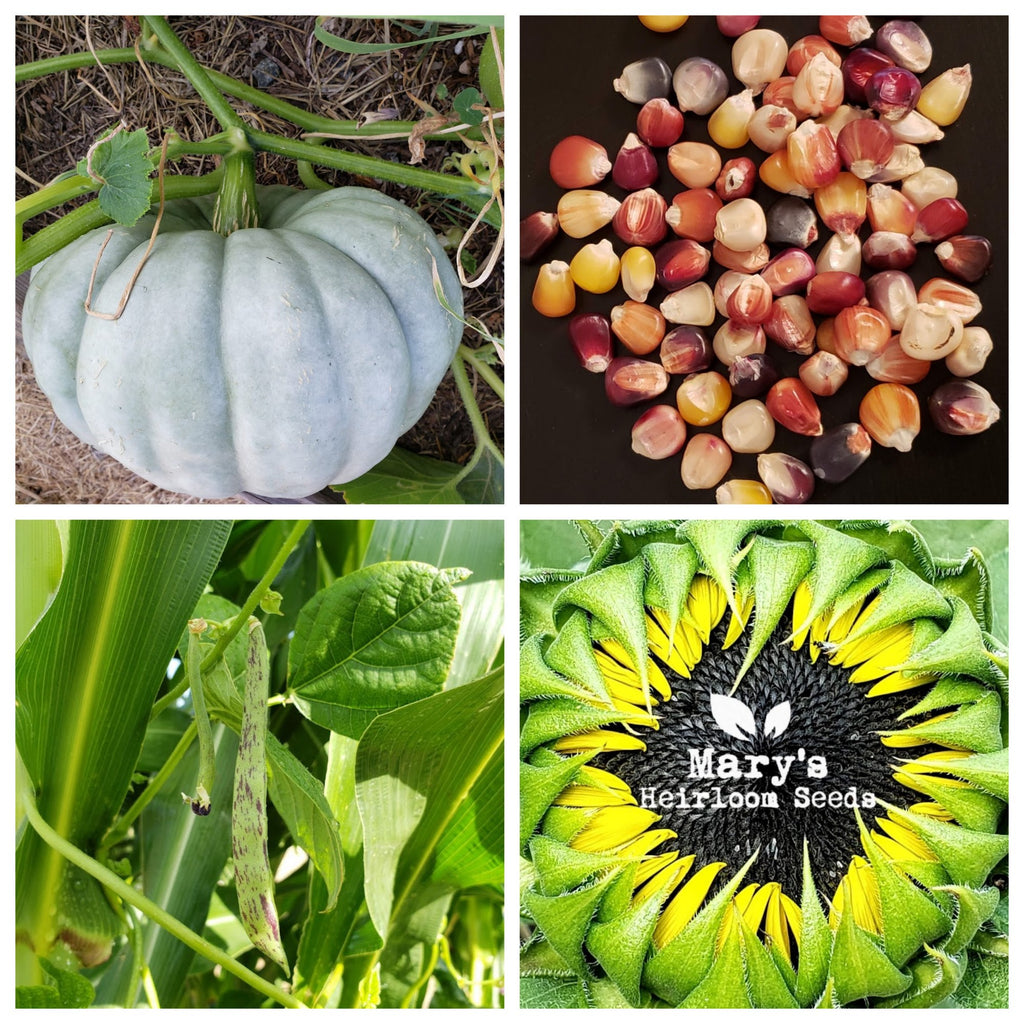 Mary's Awesome Seed Collection
$ 750.00 $ 780.00
Then I was asked for an even larger collection. Here it is! Over 300 seed packs!
Includes One packet of each:
Ace 55 tomato, Amanas Orange tomato, Aunt Ruby's Green tomato, Black Krim, Cherokee Purple tomato, Czech Bush tomato, Green Grape tomato, Hungarian Heart tomato, Marglobe tomato, Manitoba tomato, Pink Brandywine, Quedlinburger Fruhe Liebe tomato, Red Cherry tomato, Red Ponderosa tomato, Roma tomato, San Marzano Tomato Paste tomato, Speckled Roman tomato, Thessaloniki tomato, Tigerella Striped and Yellow Pear tomato

Cape Gooseberry, Cossack Pineapple Ground Cherry and Rio Grande Tomatillo
Green Calaloo Amaranth, Love Lies Bleeding Amaranth, Midnight Red Amaranth and Red Garnet Amaranth

Blue Lake Bush bean, Buckskin bean, Calima bean, Dragon Tongue bush bean, Golden Wax Bean, Jackson Wonder Lima bean, Jacob's Cattle bean, Jade Bush bean, Kentucky Wonder Pole bean, Light Red Kidney bean, Navy Bean, Pinto Bean, Rattlesnake Pole bean, Roma Bean, Royalty Purple Podded bush bean, Tongues of Fire bean and Vermont Cranberry Pole bean

Calabrese Broccoli, Ramoso Santana broccoli, Spring Raab broccoli, Waltham broccoli and Purple Sprouting Broccoli
Catskills Brussels Sprouts and Long Island Brussels Sprouts
Brunswick Cabbage, Copenhagan Market cabbage, Early Round Dutch cabbage, Extra Dwark Pak Choy, Mammoth Red Rock cabbage, NJ Wakefield cabbage, Pak Choy cabbage, Red Acre cabbage and Savoy Perfection Drumhead cabbage
Pink Plume Celery and Utah Tall Celery
Bull's Blood beet, Chioggia Beet, Detroit Dark Red beet, Early Wonder beet, Golden beet, Red Mammoth Mangel beet and Ruby Queen beet.

Atomic Red carrot, Bambino carrot, Cosmic Purple carrot, Danver's Half-long Carrot, Kuroda carrot, Little Finger, Lunar white carrot, Parisienne carrot, Scarlet Nantes carrot and Tendersweet carrot
Blue Clarage Dent Corn, Country Gentleman Sweet Corn, Dakota Black Popcorn, Eureka Ensilage Dent Corn, Glass Gem Corn, Golden Bantam Sweet Corn, Hopi Blue Corn, Mandan Bride corn, Painted Mountain corn, Rainbow Indian corn and Stowell's Evergreen Sweet corn
Armenian cucumber, Ashley cucumber, Boston Pickling cucumber, Double Yeild cucumber, Lemon cucumber, Marketmore cucumber, Miniature White cucumber Parisian cucumber, Tendergreen Burpless cucumber and White Wonder cucumber
Aswad eggplant, Black Beauty eggplant, Florida Market eggplant, Long Purple eggplant, Petch Siam eggplant and Ping Tung Long eggplant
Dwarf Siberian kale, Lacinato Kale, Russian Red kale and Vates Blue Curled Kale
Arugula, Blonde de Paris lettuce, Buttercrunch Lettuce, Cimmaron Red Romaine lettuce, Batavian Broadleaf Endive, Flame Lettuce, Garden Sorrel, Grand Rapids lettuce, Henderson Black Seeded Simpson Lettuce, Kagraner Sommer Lettuce, Little Gem Lettuce, Oakleaf Lettuce, Purple Orach, Red Romaine lettuce, Red Sorrel, Summer Bibb lettuce, Tom Thumb Lettuce and White Boston Butterhead

Florida Broadleaf Mustard, Japanese Red Giant Mustard, Southern Giant Mustard and Tatsoi

America Spinach, Bloomsdale Longstanding Spinach and Giant Nobel spinach

Fordhook Giant Swiss chard, Perpetual Spinach Swiss Chard, Rainbow Swiss Chard and Ruby Red Swiss Chard

Georgia Green collards, Morris Heading collards and Vates Collards
Early Vienna Purple Kohlrabi and Early Vienna White Kohlrabi
American Flag Leek, Carantan Leek, Crystal Wax (pickling) onion, Evergreen White Bunching Onions, He Shi Ko Bunching Onion and Red Torpedo Onion
Alaska Pea, Green Arrow pea, Lincoln Pea, Mammoth Melting Snow Pea and Sugar Ann Snap pea

Lady Finger cowpea, Purple Hull Pinkeye Cowpea, California Blackeye Pea and White Acre pea

Black Spanish Round Radish, Champion Radish, Chinese Green Luobo radish, Easter Egg Radish, German Giant Radish, Hailstone radish, French Breakfast Radish, Lady Slipper radish, Purple Plum radish, Red Daikon Radish and Watermelon radish

Burgundy okra, Clemson Spineless Okra, Emerald Okra, Louisiana Green Velvet okra and Texas Hill Country Okra

Anaheim pepper, Ancho Poblano pepper, Ashe County Pimento pepper, Big Jim Hot pepper, Bullnose Pepper, Cayenne pepper, Cal Wonder Bell pepper, Cubanelle pepper, Firecracker hot pepper, Golden Cal Wonder Bell pepper, Hungarian Yellow Sweet pepper, Jalapeno pepper, Lemon Habanero, Melrose Sweet pepper, Pepperoncini Sweet Pepper, Red Cherry Sweet pepper, Santa Fe Grande pepper, Serrano pepper, Sweet Banana pepper, Tabasco pepper and Takanotsume pepper

Harris Model Parsnip and Hollow Crown Parsnip
Dickinson pumpkin, Green Stripe Cushaw pumpkin, Jarrahdale Pumpkin, Mammoth Gold pumpkin, Rouge Vif D'Etampes pumpkin, Seminole pumpkin and Sugar Pie Pumpkin
Black Beauty Zuchini, Benning's Green Tint Scallop Squash, Cocozelle Zucchini, Genovese Italian squash, Golden Crookneck squash, Lebanese Bush Squash, Lemon Squash, Ronde de Nice squash, Tatume squash, Tromboncino squash and Yellow Scallop squash

Candy Roaster squash, Chicago Warted Hubbard, Delicata squash, Ebony Acorn squash, Guatemalan Blue squash, Hubbard Blue squash, Kabocha squash, Queensland Blue squash, Spaghetti squash, Table Queen Acorn squash, Tennessee Sweet Potato squash and Waltham Butternut squash

American Purple Top Rutabaga, Gold Ball Turnip, Purple Top Whiteglobe Turnip and White Egg turnip

Green Globe Artichoke, Mary Washington Asparagus, Jet Barley, Snowball Cauliflower, German Golden Millet, Moringa, Cherry Vanilla Quinoa, Salsify, Rox Orange Syrup Can Sorghum, Luffa gourd (natural sponge), Dipper Gourd and Cucuzzi Gourd

Boule d'Or melon, Casaba Golden Beauty Melon, Green Flesh Honeydew melon, Hale's Best Jumbo melon, Juane Canary melon, Pike muskmelon
Black Diamond Watermelon, Crimson Sweet watermelon, Dixie Queen watermelon, Florida Giant watermelon, Klondike Striped Blue Ribbon, Watermelon Moon & Stars Yellow Flesh Watermelon and Thai Roselle
Culinary and Medicinal herbs:  Anise, Genovese Basil, Calendula, Caraway, Catnip, Chamomile, Chives, Cilantro, Cumin, Dill Dukat, Dill Mammoth, Echinacea Purpurea, English Lavender, Fennel, Garlic Chives, Lemon Basil, Lemongrass, Oregano, Parsley, Rosemary, Sage, Summer Savory, Sweet Basil large-leaf, Sweet Margoram, Tarragon, Thyme, Toothache Plant and Yarrow

Companion plants, also edible: Borage, Lemon Bee Balm, Plains Coreopsis, African Crackerjack Marigold, French Marigold, Mammoth Grey Stripe Sunflower, Nasturtium and Sweet Alyssum

Pollinator Friendly: Alsike Clover, Crimson Clover, Bachelor Button, Black Eye Susan, Black Oil Sunflower, Hopi Black Dye Sunflower Cosmos Sensation Mix, Lacy Phacelia, Lemon Queen Sunflower, Giant of California Zinnia and Zinnia Mix
All seed varieties are individually packed in paper envelopes .

NEW ARRIVAL for 2023
For detailed planting info, seed our Growing Tips & Videos page
Related Products