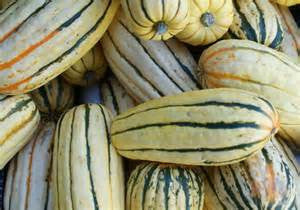 Delicata Squash
$ 2.50
100 days.  Introduced in 1890s.  Delicious, creamy sweet potato like taste.  Delicata has a fine grained, light orange flesh steamed or baked.

Delicata has a very tough skin which makes if perfect for baking on coals, on the grill or to just simmer in its on juices while in the oven.   This tough skin also serves as the perfect wrapper protecting it for up to 6 months in storage! 

Contains 15 heirloom seeds
Related Products
Superb flavor
Everything they say about Delicata is true. It's an excellent baker, great roaster and it's sweet, nutty flavor is one of my favorites. Here in Zone 8b in the Mohave Desert of Arizona, gardening can be a challenge, but Delicata always comes through. I don't find it lasts for six months, though I think it would if stored in a root cellar, or someplace cooler than my home, but with our very short winters it doesn't have to last that long. It's another variety I grow on a trellis. I use "bags" I make from bird netting to support the suspended fruits as they grow--do the same thing for melons and cucumbers.