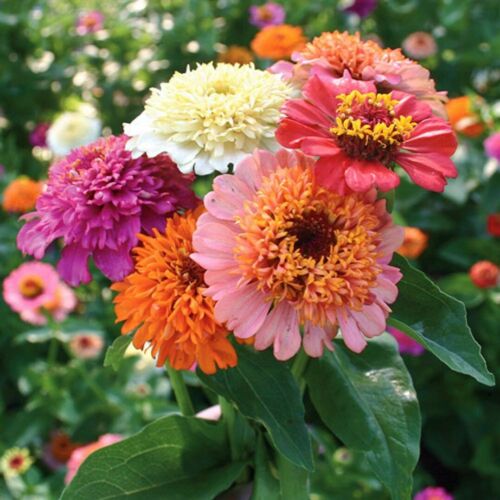 Zinnia, Scabiosa Mix
$ 2.50
Annual. Zinnia elegans
Scabiosa Flowered Zinnias bloom in the summer, thriving in full sun and warm weather.

These scabiosa-type zinnias are extra fun with frilly pompom tops. The blooms add a different texture to arrangements. Brighten the border with these easy-to-grow zinnias. It will also produce some single blooms, like all double types.
Attracts Pollinators, Attracts Hummingbirds, Great for a Cut Flower Garden and Deer Resistant.
Contains 60 heirloom seeds
Growing Tips: Direct sow soon after last spring frost. Requires full sun, rich soil, and moderate moisture to attain perfection. Cut frequently or remove spent flowers for highest production.
Related Products
Wonderful flowers
I got some scabiosa zinnia in a mix pack last year, and was AMAZED! These are fabulous to look at and just keep producing. I love them and plan on putting them everywhere I can this year! Thank you Mary!