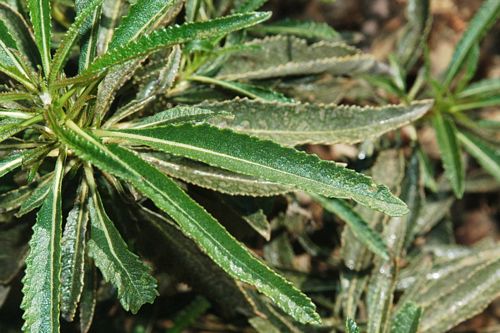 Yerba Santa
$ 3.00
Eriodictyon californicum
Also known as mountain balm, bear's weed, gum bush, gum plant, and consumptive weed.
Erect, branching, evergreen shrub flowering to 6 feet tall, native to California and Southern Oregon.  The long, lance-shaped leaves of this plant are coated with aromatic resin, making them sticky and shiny.

Yerba Santa translates from Spanish to "sacred herb", named by Spanish missionaries who were impressed with the plant's beneficial qualities. Eriodictyon californicum is native to the southwest United States and northern Mexico.
It is an aromatic, evergreen shrub whose leaves have been used in traditional herbalism for centuries. Yerba santa leaf can be infused as yerba santa tea, incorporated into honeys and syrups, employed in external applications, or even steeped in bath water for an herbal soak.
Contains 30 seeds
NEW ARRIVAL for 2024
Related Products