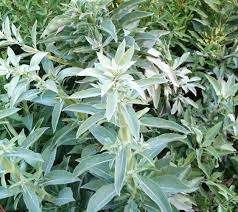 White Sage
$ 3.00
Salvia apiana is a highly aromatic herb with an aroma that is both earthy and soothing. White sage can be identified by its large, white to silver-grey leaf clusters that exude a distinct and lovely aroma.
A white sage plant typically grows no more than five feet tall and four feet wide. The plant produces wands of tiny white to lavender colored flowers that are a favorite to desert pollinators. The blooming season is brief and only runs from April to early June.
White sage is found naturally in the coastal sandy desert habitats of Southern California and Baja California, and on the western edges of the Mojave and Sonoran deserts and at altitude in the dry areas of the high Sierras.

Contains approx. 25 heirloom seeds

Planting Tips: Seeds should be misted with water and kept in a consistently warm part of the house that receives direct sunlight to germinate successfully. Seedlings will take at least 14 days to sprout. Once young plants have produced several true leaves and are at least a few inches tall, they can be transplanted outside.

Related Products