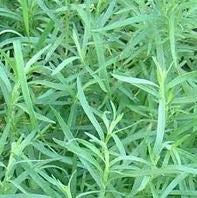 Tarragon
$ 3.00
Russian variety.  Use fresh or dried.  A flavorful herb that is used to season salads, meats and other dishes; hardy plants grow to 40 inches. 
Also Medicinal.

Contains approx. 80 heirloom seeds.

Tip: Tarragon prefers well-drained soil which is not too high in nutrients. It will do equally well in full sun or partial shade. Start the seeds off in pots around April time. Keep them indoors at room temperature. They are ready for planting in their final position outside when the seedlings are 4 inches high.
Related Products