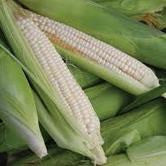 Stowell's Evergreen Sweet Corn
$ 2.95
90-110 days.  Released commercially in 1856.
This delicious white sweet corn is regarded as the "King of All White Sweet Corn Varieties", has been popular for over 162 years.  

Stowell's Evergreen matures slowly over a long period, extending the usual harvest and produces 9 inch ears with 16 to 20 rows of plump, sweet white kernels.  It has a good shelf life, and is a good option for eating fresh, canning or freezing.


Contains 50 heirloom seeds
Related Products
Questions about this corn
How many days till germination? Hoping to like it. Planted today and would like to find out
Hi Shelby!
Corn needs warm soil to germinate. Usually corn takes 7-14 days to germinate.