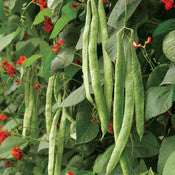 Scarlet Runner Bean
$ 2.95
75-95 days. 
Scarlet Runner Bean was introduced sometime before 1750.  This is the most famous and widely grown runner bean.  Runner beans are native to Mexico and Central America where they thrive in cool and humid upland terrain.  Perfect for the Pacific Northwest.

Scarlet Runner beans are very vigorous and can easily reach 20'.  A great producer of beans, they are perfect when small for snap beans or later as a dried shell bean. Shiny black seeds mottled with purple.
Also know for their red blossoms borne in masses of 20-40 on a flower stalk.  Hummingbirds can't get enough of them!!

Contains 20 heirloom seeds
Related Products