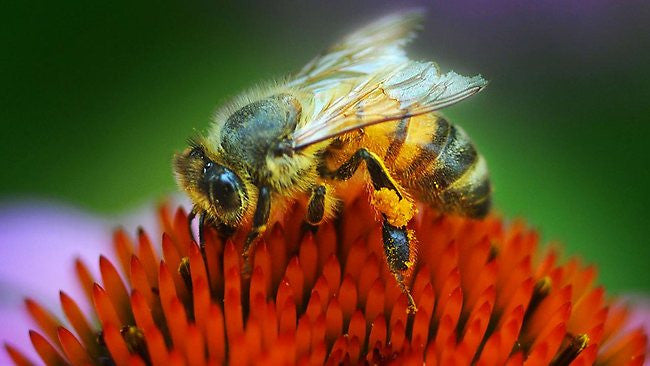 Save the Bees Flower Mix
$ 2.95
Have you considered planting a Bee-Friendly garden?
Pollinators are probably the first beneficial insect that we think of. Without pollinators, our food resources would be drastically reduced. Pollination is required to produce seeds and fruit in up to 80 percent of the world's flowering plants, including 2/3 of the world's food plants. It would be difficult to imagine our food choices without food plants!
Helpful tips: Plant for Pollinators and Increase Crop Yields
Save the Bees Wild flower seed mixture includes:
Coreopsis lanceolata - Lance leaved coreopsis
Echinacea purpurea - Purple coneflower
Lupinus perennnis - Perennial blue lupine
Lupinus succulentus / hartweggii - Annual blue lupine
Helianthus annuus Sunflower - Dwarf sunspot
Trifolium incarnatum - Crimson clover
Gaillardia aristata - Perennial blanketflower
Chamaecrista fasciculata - Partridge pea
Ratibida columnaris - Mexican hat
Eschscholzia californica - California poppy
Cosmos bippinatus - Sensations mix
Phacelia tanacetifolia - Lacy phacelia
Asclepias tuberosa - Butterfly milkweed
Coreopsis tinctoria - Plains coreopsis
Limnanthes douglassii - Poached egg meadowfoam
Monarda fistulosa - Wild bergamont
    

Contains approx 100 seeds
Planting info:
On small areas, broadcast seeds evenly by hand.
It is helpful to mix a carrier such as clean, dry sand with the seed; sand adds volume and aids in even distribution. We recommend using a ratio of 1 or 2 parts sand to 1 part seed. Rake in lightly, covering seeds to a maximum depth of 2-3 times their thickness. Or drag the area lightly with a piece of chain link fence to mix the seed into the surface of the soil.
All seeds, including wildflowers, need ample moisture to germinate and to develop into healthy seedlings. Best results will be obtained by soaking the planted areas thoroughly and maintaining consistent moisture for 4-6 weeks - then gradually reducing waterings.
Related Products
So many different flowers!
There are so many different flowers in this pack, it's a amazing bouquet!