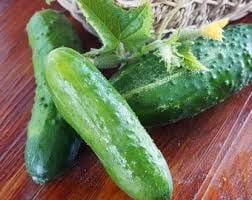 Rhinish Pickling Cucumber
$ 2.50
55 days. Also known as Vorgebirgstrauben

An old German heirloom variety.
Best when harvested at 4" long for pickling. Also good for salads and slicing.

Contains 25 heirloom seeds
*NEW ARRIVAL for 2022*
Planting Instructions:  Seeds should be sown in warm conditions, covered very lightly (depth of ¼ inch) and kept reasonably moist until seedlings emerge. 
Grow in full sun with a trellis or fence.
Transplant seedlings 24-36 inches apart.
Related Products