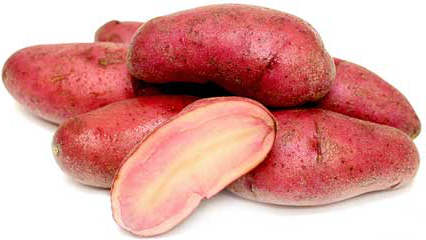 Red Thumb Fingerling Organic Potato
$ 9.50
*OUT OF STOCK*

One of the best tasting of the fingerlings. It has rosy-buff skin with deep yellow flesh (blushed with red). Excellent for potato salad. Produces lots of medium-sized, well-clustered potatoes. Very good roasted over the coals. The tubers are long-keeping and the vines are very vigorous. Be careful not to overcrowd this variety.
65+ days, early-season
High yield potential and good keeper
Medium-sized tubers
Certified seed & certified organic
**POTATO SEED SHIPS AFTER JANUARY 1, 2020 based on location**

Limited Availability
As we ship on a first come, first serve basis, your order may not ship until days or weeks later. You will receive an email when your order ships.
Please purchase additional items in a separate order.  Items ordered with Organic Seed Potatoes will ship together after January 1st.
For warmer climates, seed potatoes will ship out after January 1st
For cooler & cold climates, seed potatoes ship out after February 1st
Related Products