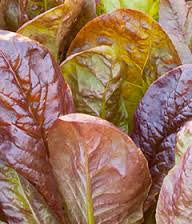 Red Romaine
$ 2.00
60-70 days.  Gourmet variety used as a colorful and tasty addition to salads. Red color develops best during cooler weather. The largest romaine we offer, 12" tall and 10-12" wide.

Contains 100 heirloom seeds

Sow seed 1/8 inch deep, 1 inch apart in rows 12 to 18 inches apart. When plants have two or three true leaves, thin to 12-inch spacing for crisphead varieties, 6 to 10 inches for other types.
Related Products
Excellent result
Good germination rates, took well to my hydro setup and looks great. I will be buying this one again.
Must have 100 plants
So I planted the entire packet and I think they all came up. Time to transplant into my lettuce boxes.