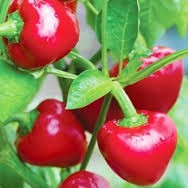 Red Cherry Sweet Pepper
$ 2.50
70 days. Grows green to red, this Pre-1860 heirloom pepper is a beauty!
Shaped like bonbons, these little sweet peppers are a good size for lunch box treats, and great for pickling, canning, and stuffing. Tall plants bear loads of dark red 1 in. x 1-½ in. fruits that not only looks like cherries, but have some cherry flavor as well!

Contains 25 heirloom seeds

Planting Instructions: Seeds should be sown in warm conditions, covered very lightly (depth of ¼ inch) and kept reasonably moist until seedlings emerge. 
Grow in full sun. Great for containers.
Related Products