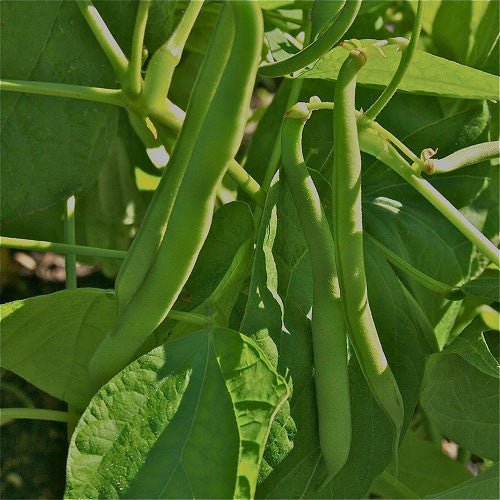 Provider Bush Beans
$ 2.50
50 days. Snap bean for home gardens, local market, shipping fresh and for freezing.  15-17" vines, bushy, sturdy, and strong roots. 

Pods round to heart-shaped, straight, 5-1/4", fleshy, low fiber, tender, stringless, and medium dark green.

Excellent for cool soil emergence for early season or cool coastal climates. Though it has a concentrated early set, it does provide for longer than many bush snap beans.

Good flavor and high yields.  Widely adaptable.  Resistant to common and NY15 bean mosaic and pod mottle viruses, and is tolerant to powdery mildew

Contains 25 heirloom seeds
Related Products
Fantastic bean!
I grew this bean for the first time this spring (2023) and I cannot believe how many beans this plant produces! The beans are so tasty and the plants are so hardy. The name of this bean is spot on- heavy harvest! I'll always make room for this one in between my tomatoes!
Dependable, vigorous and delicious
This is the one bean I grow every single year because when other beans fail to produce this one comes through. It is my absolute favorite bean, being productive and reliable. I'd rather it was a pole bean so I could trellis it and make harvesting easier on my back but it's a bush bean and I'll stick with it. I grow French Climbing and Blue Lake Pole beans on trellises and I love their flavor but if I could only grow one bean this would be it. Great for fresh eating, freezing or canning.
lives up to its name
In Gardening Zone 3b, we had wild vagarities in weather, causing poor germination, growth, and pod set in our beans. Provider did not care. It was splendid in all conditions, germinating quickly, vigorously, filling out well, setting many pods, and giving us a year's supply in no time. It also has a traditional beany taste we cherish.