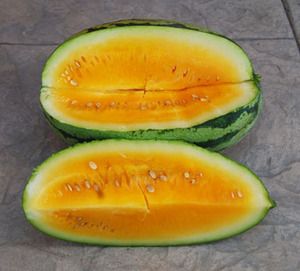 Orangeglo Watermelon
$ 2.75
85 days. One of the best orange-flesh watermelons. Very crisp, sweet, and flavorful deep orange flesh. Vigorous plant produces heavy yields of 25 lb. melons with light and dark green stripes.

Contains 20 heirloom seeds
*Back in Stock for 2022*
Related Products
Sweet and prolific! I ended up with multiple 25+ melons I shared with friends and co-workers. One was even 35lb! I was told by multiple people at church that it was delicious!
Best sweetest juiciest melon ever
Nothing can compete with these watermelons the texture is amazing and they super juicy and sweet. The color is gorgeous too!
"slap your mama's"
Thirty five years ago my grandfather raised forty acres of different varieties of watermelons. These were and still are my favorite watermelon. "It'll make you want to slap your mama" they are so good, just don't let them linger too long on the vines, they will get stringy. But, when picked at the right time, you will not get a better watermelon.