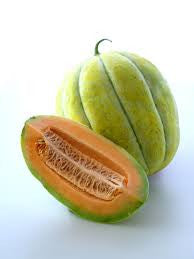 Navajo Yellow Melon Seeds
$ 3.00
90 days.  Navajo Yellow melon is an old Native American Heirloom from the people of the Navajo Nation. 
This melon is ribbed and oval shaped.
The outer rind is smooth with a yellow skin and orange flesh inside. 
Heat and drought tolerant.
Navajo Yellow is a good keeper if unbruised when stored.
Grow a real piece of American History.  Perfect for demonstration gardens or teaching children about our Native ancestors.
Muskmelons grow best on well-drained, upland, silty, or (preferably) sandy loam soils with a pH level between 6.0 and 6.5. Melons planted into acidic soils (pH less than 6.0) will have yellowed foliage and produce fewer perfect flowers.

Contains 10 heirloom seeds
*NEW for 2017*
Related Products