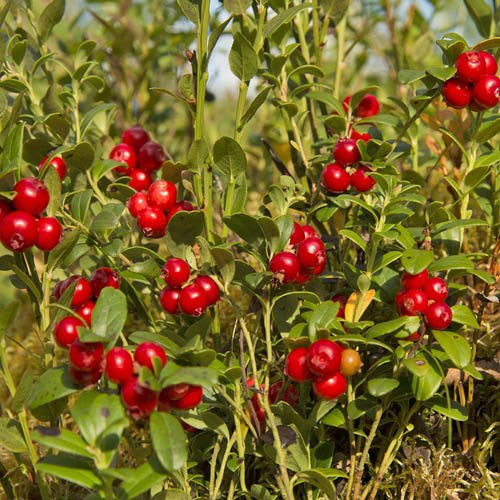 Mountain Cranberry
$ 3.00
Depending on where you are at in the world, Mountain Cranberry may also be called: Lingonberry, Cowberry, Foxberry, Quailberry, Beaverberry, Red Whortleberry, Tyttebær, Bearberry, Lowbush Cranberry, Cougarberry, Mountain Bilberry, Partridgeberry, Redberry, and more. Mountain Cranberry is a short evergreen shrub in the heath family that bears edible fruit, native to boreal forest and Arctic tundra throughout the Northern Hemisphere from Eurasia to North America. Lingonberries are a staple in Northern Scandinavia, picked in the wild and used to accompany a variety of dishes.
Lingonberry has been commercially cultivated in the Netherlands and other countries since the 1960s. Empress Elizabeth ordered lingonberry to be planted all over Peterhof in 1745.
Vaccinium vitis-idaea keeps its leaves all winter even in the coldest years, unusual for a broad-leaved plant, though in its natural habitat it is usually protected from severe cold by snow cover. It is extremely hardy, tolerating temperatures as low as −40 °C (−40 °F) or lower, but grows poorly where summers are hot. It prefers some shade (as from a forest canopy) and constantly moist, acidic soil. Nutrient-poor soils are tolerated but not alkaline soils.
In folk medicine, V. vitis-idaea has been used as an apéritif, astringent, antihemorrhagic, anti-debilitive, depurative, antiseptic (especially for the urethra), a diuretic, a tonic for the nervous system, and in various ways to treat breast cancer, diabetes mellitus, rheumatism, and various urogenital conditions.
In traditional Austrian medicine the fruits have been administrated internally as jelly or syrup for treatment of disorders of the gastrointestinal tract, kidneys and urinary tract, and fever

Contains 20 seeds
Related Products