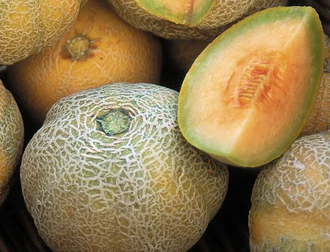 Minnesota Midget Melon
$ 2.50
70 days.  Cucumis melo
An excellent melon for shorter season growers.
Luscious, sweet, delicious-- this delightful little heirloom muskmelon produces a bounty of early, and true-to-its-name, mini cantaloupes.

Fruit measure 4–6 inches across and have deep orange flesh that is succulent, sweet, and delicious down to the rind.
Its compact plants are Fusarium wilt resistant and an ideal for small space or container gardens.
Contains 20 heirloom seeds
NEW ARRIVAL for 2024
Related Products