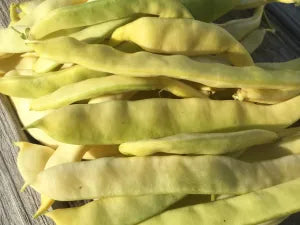 Marvel of Venice Beans
$ 2.50
55 days. Phaseolis vulgaris

This heirloom Italian wax bean is a beauty!
Marvel of Venice bean plants produce long, flat, golden-yellow Romano-type pods bear early and prolifically on strong climbing vines.
*White seeded variety*

Contains 25 heirloom seeds
NEW ARRIVAL for 2023
Planting Instructions: Soak beans 2-3 hours before planting. (optional)
Seeds should be sown in warm conditions, covered very lightly (depth of ½ inch) and kept reasonably moist until seedlings emerge. 
Grow in full sun.  Thin Seedlings 6-12 inches apart.
Trellis for support.  Do not over water.
Related Products
Georgia Zone 7b-8a
I didn't purchase these beans from Mary's but I did grow them last season. They are insanely delicious fried up in butter or oil, best bean I have had. The flat, smooth bean makes for such a nice texture. I will be ordering them here this year because I the original source no longer sells this variety. It was easy to grow (pretty much all beans are) and prolific. I just kept coming back and harvesting and it seemed like everyday it had new beans. They were even slightly cold hardy once the fall came. I planted mid august and they still had time to produce a bunch. The was a first cold nap and they got sad for one day but then bounced right back and kept producing. Definitely a gourmet bean.