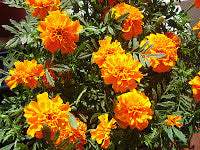 Marigold, African Crackerjack
$ 2.50
Large flowers in shades of yellow to orange add color to borders and flower gardens. The flower's strong aroma deters many garden pests.
This marigold has nematocidal qualities when dug into the soil. Has been used medicinally for centuries.  Great Companion Plant!  Attracts bees and butterflies

Contains 100 seeds
Related Products
These are 100% germination rate! Thanks so much. And shipping was fast as always!
amazed
love these. fast growing and very healthy and vibrant looking. planted them in raised garden bed with veggies.
the gift that keeps on giving
amazing...painted my door orange so had to have some flowers to match....they were gorgeous and keep reseeding themselves...
Love them!
I first purchased the African Cracker jack two years ago. At first I thought I had recieved thr wrong seed because I had what looked to be bushes instead of maroglods, thier hight reached about 4. 1/2 feet. But suddenly they exploded in blooms. They continued to bloom until our first hard freeze in October. The brillent colors and size won my heart. Very hardy! I planted them in an area where I have had s tremendously difficult time getting anything to grow. They are by far my favorite!! Can't say enough good things about them. LOVE THEM