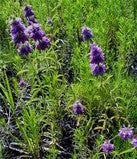 Lemon Bee Balm
$ 2.50
An annual, lemon flavored variety. Superb tea plant; striking pink-purple flowers, beautiful and tasty.
*Attracts Pollinators*
Monarda Citriodora grows in prairies, roadsides and other sunny habitats from wildflower seed. It grows from California to Florida, but is a native of the Midwest. It prefers soils with a high percentage of clay, but is adaptable to varying soil types as long as they are drier soils and not saturated. Lemon Bee Balm herb plants grow best in full sun to partial shade. Like many wildflowers, they can re-grow from the wildflower seed that drops it late fall. This wildflower seed will be dormant until temperatures rise the following spring and proper moisture levels are obtained to ensure germination.
Contains 50 heirloom seeds
Related Products