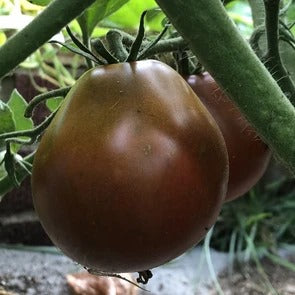 Japanese Trifele Black Tomato
$ 2.95
80+ days.  Indeterminate
A mahogany colored, pear shaped, rich and smoky flavored, crack-resistant fruit.
Oddly enough, although it's called Japanese Trifele, it actually originates from Russia.
This short potato leaf plant yields prolific quantities of 6 oz. fruit. Very tasty flesh with a meaty core that produces luscious fruit all summer long.

Contains 15 heirloom seeds    
Related Products
Delicious rich and almost smoky flavor
Enjoyed the experience of these tomatoes on turkey burgers. Will be ordering more.