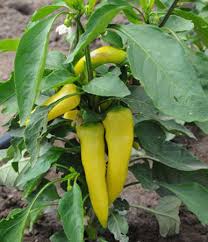 Hungarian Yellow Hot Wax Pepper
$ 2.00 $ 2.50
SEED SALE
70-80 days.   The Hungarian wax pepper is a canary yellow chile pepper also known as the hot yellow pepper or hot wax pepper. The Hungarian wax is closely related to the mild banana pepper.  

These peppers have a sweet, but hot flavor that make them a favorite in many dishes.  Hungarian wax peppers are shaped like a carrot, they taper to a rounded point and averages about 6" in length and about 1 1/2" wide.
It is considered an early pepper that produces excellent yields on a 24" plant. Perfect for roasting. 
Fantastic addition to Homemade Salsa!

Contains 25 heirloom seeds

Related Products
Perfect Medium hot Banana Pepper
Grew these peppers in Citrus County/Central Fl and they are now one of my favs! One plant produced 10 long peppers that last a while on the plant. No pests as yet :) Minimal interior seeds and great either raw or roasted. The heat comes on slow lol! Enjoy!