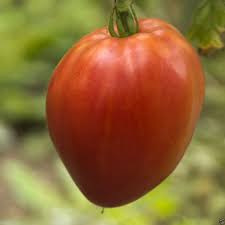 Hungarian Heart Tomato
$ 2.50
Brought to the United States in 1901 from a village 20 miles from Budapest. Huge red oxheart fruits weigh upwards of one pound. Very few seeds and almost no cracking.
Great for canning, slicing and sauce!
Contains 25 heirloom seeds
Related Products
Big 'n Heavy
Really big, heavy, and meaty fruit. Seems to take a while to ripen because of the meatyness I think. Was great at first. Started to pick them before they were totally ripe because something was eating them just before perfection. Really added tasty flavor and body to our homemade spaghetti sauce.
surprisingly large!
Tomatoes were large, tasty, and juicy!
Great for BLTs, spaghetti sauce, and my blend of homemade tomato juice!