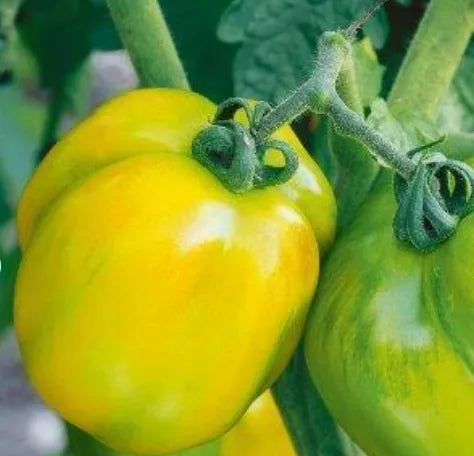 Green Stuffer Tomato
$ 2.75
85 days. Indeterminate
As the name implies, these beautiful Green Stuffer Tomatoes are great for stuffing!
During the growing life of these unique tomatoes, they grow to resemble a green bell pepper. The seeds are close to the center of the tomato, leaving plenty of room for the "stuffing" of your choice.
Green Stuffer tomatoes have a unique flavor and while they may be a bit less acidic than some, they are a but more acidic than yellow varieties.
Contains 25 heirloom seeds
NEW ARRIVAL for 2023
Planting Instructions: Seeds should be sown in warm conditions, covered very lightly (depth of ¼ inch) and kept reasonably moist until seedlings emerge. 
Transplant or thin seedlings 13-17 inches apart.
Grow in full sun.  Stake or cage for support.
Related Products