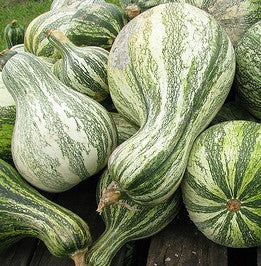 Green Stripe Cushaw Pumpkin
$ 2.50
115 days.  Green stripe Cushaw produces fine yields of 20" long pumpkins with a long curved neck that weight 10-12 lbs.
A Native American squash that has an ancient history. The large vines are vigorous and are good for the South.

The skin is white with green stripes and has thick yellow flesh

Contains 25 heirloom seeds
Related Products
Easy to Grow, mild pumpkin flavor
I'm a poorly skilled gardener and these have grown so well with little care. When all the other squash plants were overtaken by squash bugs, beetles, vine borers, etc. these weren't affected. They are very large and have a mild pumpkin flavor that has worked well in muffins, smoothies, pies, cookies, and pumpkins. I will definitely grow these again.
Excellent Seeds!
I bought the seeds and planted five of them straight into a 4'x8' garden bed in May 2019. May was pretty busy and I watered them daily but otherwise, left them alone. It's about a month later. All of the seeds have germinated and are producing vigorous and healthy plants. One of the female flowers blossomed yesterday and there's already a small Cushaw Pumpkin growing from it. I'm so delighted with how well these seeds have done. I'm excited to be growing food for my family and I'm looking forward to an abundant harvest.