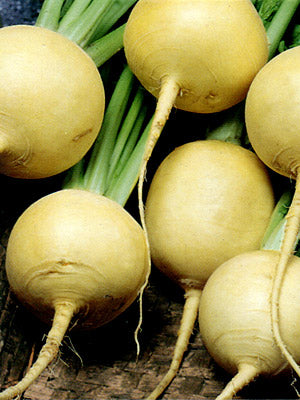 Gold Ball Turnip
$ 2.00
70 days.  Gold Ball is fine grained, smooth, meaty and never woody like other turnips can be.
Introduced prior to 1859 and still going strong! 
This is one turnip you want your garden for its perfectly shaped 3-4" amber globes.

Contains approx. 100 heirloom seeds
Related Products
Now that was an interesting turnip
Bought these a while back and finally got to plant some of them this spring. They didn't do very well, but NONE of my stuff did well this year, regardless of who it came from. So I'm not faulting them at all. Combination of my fault and poor weather, I do believe. :(
One finally got big enough to eat this last weekend though and it was VERY tasty. I also had a purple-top that was ready, so I could eat both of them and compare. I wish I had the words to describe HOW it was different, but I don't. It was a bit different in texture, in the crunch, in the taste, and even in the smell from the fresh-cut turnip. I was very impressed. If I was in the grocery store to buy a turnip, and both varieties were there to pick from, I'd buy these. That's the best compliment I can give them. Now, I did not try the greens though. And I can provide no comparison or review on on that aspect.
Buy some. You'll see. They're interesting, and in MY opinion, just simply better.
I've still got some seeds left and I will be trying again with my fall stuff. Hopefully the weather will cooperate with me a little better then.