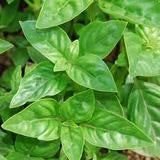 Genovese Basil
$ 2.00 $ 2.50
Ocimum basilicum
36 days.   Fantastic Italian herb.  This variety of Sweet Basil seeds produce extremely tender and fragrant herb plants. Genovese Basil has extra-large, dark green leaves and is often used in Italian pesto. Genovese Basil typically grows to a height of 18 - 24 inches.
Great for pesto!

Contains approx. 35 heirloom seeds.

Tip:  Sow seeds outdoors when soil is warm and temperature does not drop below 65°F. Can also be started indoors 4-6 weeks before planting out. Make successive sowings for continuous summer supplies. Pinch back flower stalks as they appear to keep plants from bolting. Prefers rich well-drained soil.
Related Products