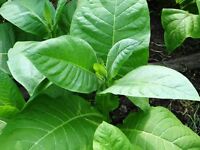 Florida Sumatra Tobacco
$ 4.00
55 days.  
Mentioned in seed catalogs as early as 1884.
'Florida Sumatra' is a very old variety that was historically shade grown and used to make excellent quality cigar wrapper leaves. It is fast maturing and grows four to six feet in height.
Some growers use tobacco as a companion plant and/or for DIY pest control. 
Mary's Heirloom Seeds does not encourage tobacco use.
Contains 50 heirloom seeds
Related Products