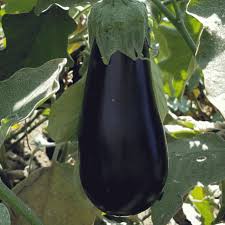 Florida High Market Eggplant
$ 2.50
80 days.  The plant produces good yields of 9 to 10" long glossy dark purple teardrop-shaped eggplants. Very flavorful. Perfect for grilling, frying, stuffing, and baking.
This eggplant might just overtake your zucchini in productivity!
Plants are strong and are especially good for commercial growers. It does well in hot and humid regions. An excellent choice for home gardens and market growers.

Disease and drought resistant.

Contains approx. 20 heirloom seeds
BACK IN STOCK FOR 2022
Planting Instructions: Seeds can be sown in cool or warm conditions, covered very lightly (depth of ¼ inch) and kept reasonably moist until seedlings emerge. 
Plant or thin seedlings 6-12 inches apart. Can be grown in containers.
Related Products