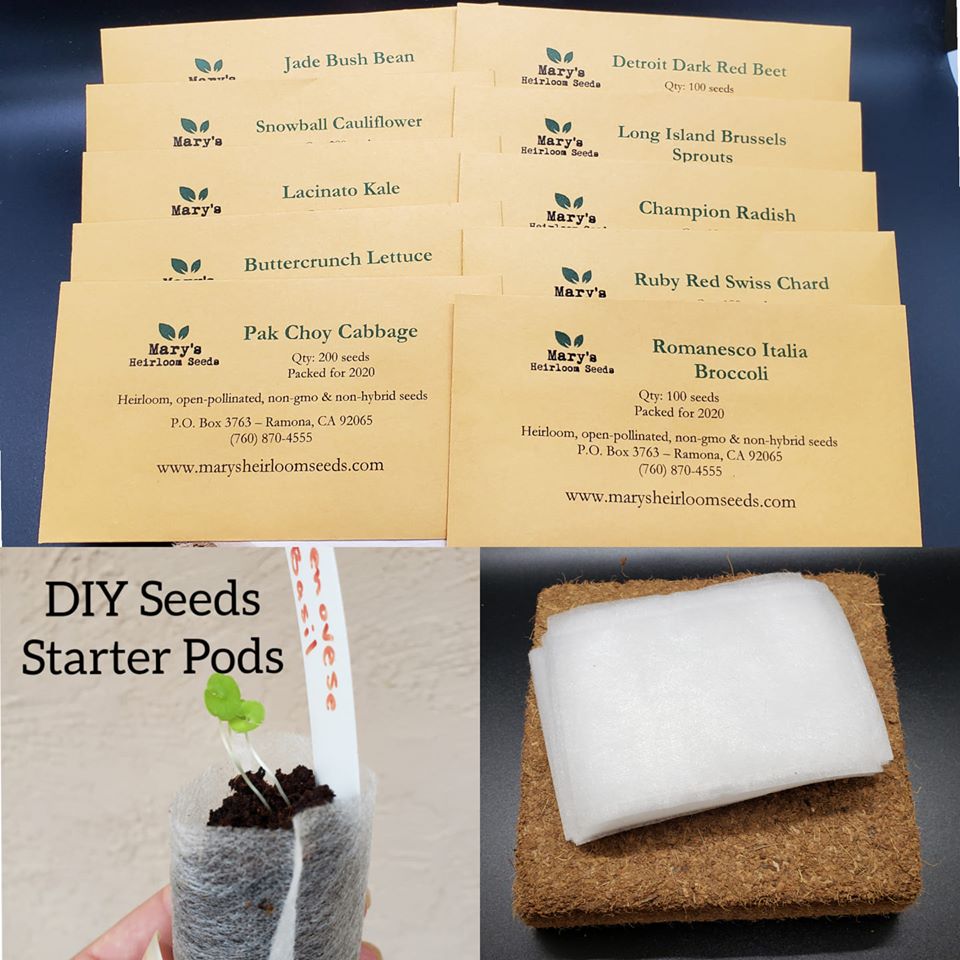 Fall Garden Seed Starter Kit
$ 36.00
DIY Seed Starter Pods are now available at Mary's heirloom Seeds!

---NEW--- Now available with a larger brick and 100 starter bags
This kit Includes:
-Fall Seed varieties: Ruby Red or Rainbow Swiss Chard, Pak Choy Cabbage, Champion Radish, Long Island Brussels Sprouts, Snowball Cauliflower, Detroit Dark Red Beet, Lacinato Kale (aka Dino Kale), Romanesco Italia Broccoli, Buttercrunch Lettuce and Jade Bush Beans
-Coconut Coir Brick
-40 non-woven seed starter bags (8X10cm)

-10 plant markers
-Printed planting instructions
(root crops should be direct sown)
About Coconut Coir:
Coconut coir growing medium comes from the coconut's fibrous husk (known as coir) that is bound together by lignin (known as pith).  With the addition of water, coir expands to an easy to work with growing medium. The addition of water increases the volume up to 3 to 9 times, depending on the packaging of products. This process results in a 100% biodegradable growing medium, making it a natural and safe growth medium of choice for growers
About Seed Starter Bags:
The grow bags are made of non-woven fabric, eco friendly plant fiber.
No need to remove the bag when transplanting, improving the plants survival rate
Directions: Use an ample sized soaking container to re-hydrate your compressed brick. Soak your compressed coir brick for a minimum of fifteen minutes before attempting to use the product.
Start with 2 liters of water per brick (specific to this kit).  If your brick is not fully hydrated then add more water.
Once your coconut coir is fully hydrated, add the coir to the non-woven starter bags provided. Make sure to pack each pod gently but firmly. Plant seeds accordingly in each pod.
Keep moist buy not in standing water.
Related Products
Alwas ys the best!
I have bought many seeds from Mary, both for myself and for gifts. I will be trying the winter kit for the first time as I generally direct sow, but, this fall will be sharing my passion with students! Always fantastic yields on seeds, can't go wrong with Mary's Heirloom Seeds. Happy Planting