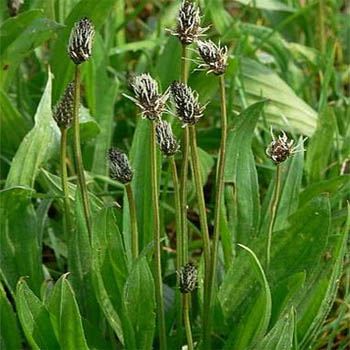 English Plantain
$ 3.00
(Plantago Lanceolata) - English Plantain is a perennial herb that has been used since ancient times as a medicinal herb. It grows easily from Plantain seeds and is also referred to as Ribwort Plantain. The leaves are lance-shaped and ribbed. The flowers are a dense brown spike that are rather inconspicuous. The English Plantain plant was a common forage for sheep and was often planted in pastures. It grows where little else will.
Plant English Plantain seeds directly outside after danger of frost has passed. Grow the herb seeds in a sunny location or in partial shade. The foliage grows larger when given some shade. It is a very hardy plant that withstands mowing and foot traffic.

Contains 100 heirloom seeds
*NEW ARRIVAL for 2019*
Related Products
Amazing!!
While many may consider this a weed, it is a true treasure in the garden, as valuable as a dandelion! Let me start that i am ot a medical professional but rather someone that seeks out the powers of medicinal herbs rather than conventional medicine due to personal allergies. My husband was in the pool and was bitten by a brown recluse. The area welted up bigtime and was painful. I am growing this english plantain which is quite potent, chewed it to release the juices (it is not tasty!) I applied this poultice to the bite. There was a half inch welt when I applied the poultice and 20 minutes later there was a tiny red pin dot, the swelling was down, the pain had subsided and the next day all that was visible was a tiny whitehead which we opened to pull out the remainder of whatever poison had been injected with the bite. Brown recluse can potentially cause necrotizing tissue where the poison that is injected is like a predigesting thing that tenderizes and digests meat so to see this as a result is totally amazing. If you are anaphylactic, rely on your epi pen in addition to the plantain for stings like bee stings, though if you just have an annoying bite, this herb is very valuable in the garden for your stings and bites. Bonus, my chickens like it too! You can use broadleaf plantain and narrow leaf plantain as well.. they all have the same properties.