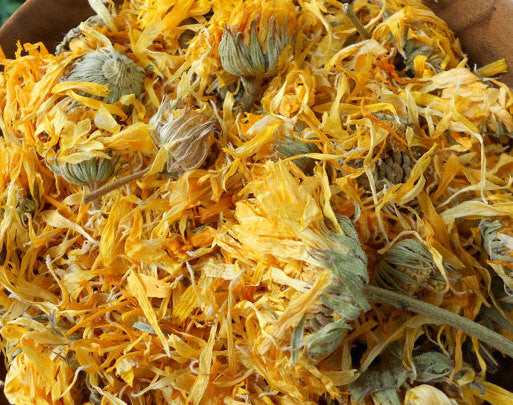 DIY Calendula Infusion Kit
$ 8.50
This "Calendula Infusion Kit" includes the following items:
Organic Calendula flowers: 1 or 2 ounces
1 ounce organic Carnauba wax
and detailed instructions
**All you need to add is the carrier oil**
Organic Calendula
An excellent option for making your own calendula-infused oils.

Latin Name: Calendula officinalis
Common Names: Calendula Flowers
Calendula is a well-known medicinal herb and uplifting ornamental garden plant that has been used therapeutically, ceremonially, and as a dye and food plant for centuries. Most commonly known as for its topical use as a tea or infused oil for wounds and skin trauma, the bright orange or yellow flower contains many important constituents and can be taken internally for a variety of ailments.
Related Products
Make your own Calendula salve and have fun doing it!
This is a wonderful kit! My daughter and I spent the day together with this project and so enjoyed it=)
It is an easy project with clear instructions, you really can't go wrong. The infusion took 6/8 hours in a crock pot(we went with 8) and that was the only reason the salve making took very long at all. I also watched Mary's You tube video prior to my order and learned about adding lemongrass essential oil to your salve and I must say the completed salve is wonderful and smells super Wonderfull too!
Based on my experience with this kit I can't wait to try others she offers.