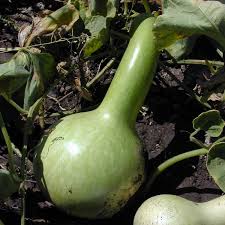 Dipper Gourd
$ 3.00
Dipper Gourds produce a 12" long by 5" in diameter gourd. Very easy to grow in the summer time heat. Does not stand frost.

Long, skinny, curving neck with a round bulbous end: can be cut and used as a ladle or dipper when dried. Grow on a trellis for straighter, longer handles.
Latin Name: Lagenaria siceraria

Days to Maturity: 125

Contains 10 heirloom seeds
*NEW ARRIVAL* for 2020
Growing Info
Choose a large area that receives full sunlight and will allow room for the vines to sprawl.
They can be grown in pots, but this will limit their size and production significantly.
Choose soil that is well-drained and warm, with a bit more clay than sand. Gourds generally do not thrive in sandy soil. If you are testing pH levels, 5.8 – 6.4 is the sweet spot for gourd production. Please note, even if it is warm outside, if the ground remains cold they will not grow well.
Gourd seeds are notorious for their long germination time, but there are a couple things you can do to help. Scarify the seeds with a nail file or sandpaper, then soak them in a bowl of lukewarm water for 24 hours to help speed up the process significantly.

 
Related Products
Totally awesome
Did take awhile for germination as i did not rush it. Beautiful large gourds with long handles. Will post pics in fb as it just started raining. Will grow again!