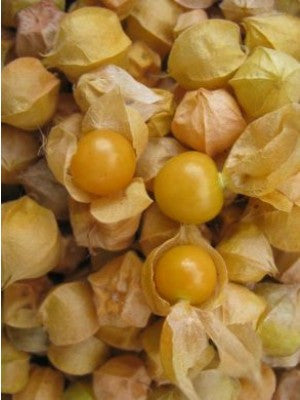 Cossack Pineapple Ground Cherry
$ 2.95
60 days. 3⁄8-5⁄8 in. fruits with delicious flavor reminiscent of pineapple. Bite- sized fruits are so tasty they may never make it into the kitchen, especially if you have children. Excellent for preserves, hot dessert toppings, salads or mock pineapple yogurt. Plants are short (12-18 in.) but with bushy spreading lateral branches to keep down weeds. Fruits ripen to a pineapple yellow.

Contains approx 20 heirloom seeds
Related Products
My most favorite of 2019
These were delicious! My kids loved them too. This was our favorite thing we planted in 2019. Very easy growing in the far North West corner of Washington state. We are definitely planting these again in 2020.
highly productive but sour
i had grown a variety of these from another seed company that were very sweet & much taller plants.these are shorter very productive plants but i left them out for the animals as the taste was very sour no one would eat them..
Prolific Ground Cherry!
This summer was the first time I tried growing them. It took a while to get the seeds to germinate but when they did, the plants took off. They grew fast and have produced well despite being attacked by flea beetles all summer. I have them growing in pots and are doing really well but as a result, they do need to be watered a bit more otherwise they wilt pretty sadly. I live in zone 7 and they have stood up to this hotter than normal summer we've had. I've gotten about 4 quarts of ground cherries from 6 plants. Definitely growing these again next year.
A new edible favorite
(NW FL, Zone 8/8b, beginner) I'm new to gardening. I ordered/collected a wide variety of edibles for my garden to try to see what I like. I seen these on this site and had to try. So far this is hands down my favorite. Seeds grew with easy and very little care. Plants are very attractive. The little lantern like fruit husks hanging make it cute and interesting. No support was needed for plant. Mine free stand about 12inches with an equal canopy like spread. Fruit is easy to harvest. It falls from plant in husk onto ground. Pick up husks daily. Check color of inside fruit. If yellow eat, if green allow to sit in bowl on counter for a day or two. My 3 kids (4,6,9) love them and fight over them. Taste is hard to describe and no words can do it justice. Pleasantly sweet with a pineapple/ peach flavor with a slight sweet tomato after taste. We will plant these again next year and recommend to others.