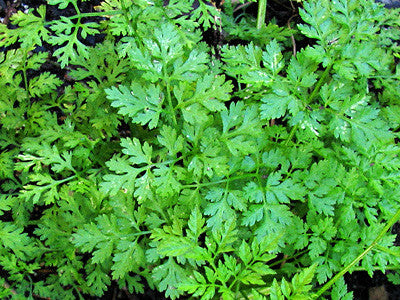 CHERVIL
$ 3.00
Chervil, also known as French Parsley, is also an attractive plant with finely-divided, fern-like leaves. It likes a position in the shade during the hottest part of the day. If it is positioned in full sun, the delicate foliage can suffer and become burned and bleached. Chervil French Parsley is fast growing and harvesting can be as soon as 8 weeks after planting the herb seeds. Some gardeners will sow the Chervil seeds in successive plantings to keep a constant supply of leaves.
For culinary use, both the roots and leaves are used. The French Parsley herb roots can be harvested in mid-summer and stored like a potato for later use in soups. The leaves are the most widely-used and have an anise-parsley flavor. Chervil leaves are a great addition to salads and soups. The flavor lends itself well to fish, crab, meats, vegetables and sauces. Chervil also had a therapeutic property being used as a diuretic and for skin ailments.
*NEW*    Contains 50 seeds
Related Products
Treasured rare herb
Chervil is the exclusive privilege available only to the home gardener. Too delicate and short-lived for mass market production, this herb is an early spring must-grow for home herb gardeners. Perfect in omelets, on potato salad, topping tender spring greens or in salad dressing. A key ingredient in the French herb combo Fines Herbes (chervil, parsley, tarragon, chives.) A cool season herb that will grow in similar conditions as parsley. My favorite spring herb.