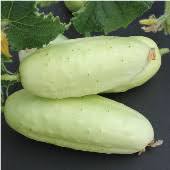 Boothby's Blonde Cucumber
$ 2.75
55-60 days.
An Heirloom from the Boothby family of Livermore, Maine.
Boothby's Blonde cucumber produces Heavy yields of unique plump cucumbers with creamy yellow skin.
Larger seed cavities than most cukes, but the seeds actually add to the mild sweet flavor that makes the fruits so good for eating out of hand. Excellent variety for pickles.
Contains 25 heirloom seeds
*NEW ARRIVAL* for 2022
Related Products