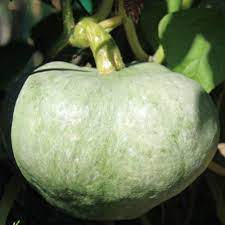 Ute Indian Winter Squash
$ 2.95
100 days. Cucurbita moschata

This is a rare, hard-to-find Heirloom
Ute winter squash is an ancient squash that dates back hundreds of years and is prized by the Ute Nation who grew it for a food source. This heirloom winter squash is light green in color with a light yellow flesh.
It's a member of the Turk's turban squash family yet possesses an almost sweet melon flavor when eaten raw.
Drought tolerant. Great roasted, grilled or fried.
Contains 15 heirloom seeds
NEW ARRIVAL for 2023
Growing tips:
Direct sow after frost, or start indoors 2-3 weeks earlier. Transplant in hills 6' apart, 3 plants per hill, or in rows 36" apart. Can be trained to grow up a trellis. Harvest when squash are buff-colored with no trace of green. Cure in a warm spot for 2-3 weeks.
Related Products