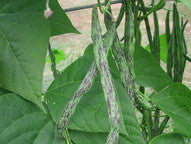 Rattlesnake Pole Bean
$ 2.95
60-90 days.  This pole bean is easy to grow and produces lots of green pods that have purple streaks. Good flavor and very tender; the speckled seeds are popular in soup. 
This variety is great for hot, humid areas.


Contains 20 heirloom seeds
Related Products
My favorite Pole Bean
Beautiful pods. Germinated fast. 2-3 days to do so. This was also my first Pole bean this season that started producing. This bean is staple in my garden. The taste of these beans are yummy.
My favorite pole bean
This pole bean is one of the best out there, in my opinion. I live in south Texas and this bean loves the hot, humid climate. It just thrives and produces well into the summer. These freeze very well and are so very good fresh. These will always be in my spring and fall garden.
One of the best
Just a terrific bean. Strong vines, prolific, flavorful, bear until frost. Great old-fashioned bean flavor. It's our favorite green bean. Kids like the 'magic' color change to all green when cooked.
Rattlesnake
Some of the Best Pole Beans you will ever eat. I Canned these for several years before giving a few Pints away. The word got out & people were coming to me for Seeds. I finally had a few local Stores that Sold Seed to Order these & they cannot keep them in supply. So good in the winter ***** Stars
Yummy
Rattlesnake Beans are truly a wonderful variety. Tasty at any stage. Prolific. Just a terrific bean.