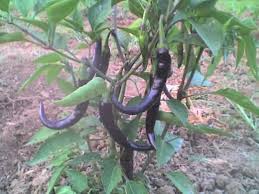 Purple Cayenne Pepper
$ 3.00
85 days. Capsicum annuum
A rare variety of the popular Cayenne pepper seed that is known for its distinctive purple color
Plants produce good yields of 2 ¾" long by ½" wide green peppers that turn purple, then red in the last stage of maturity. Great used fresh, pickled, dried, or ornamentally.
Thought to be native to the Cayenne region of French Guiana like all varieties of Cayenne peppers, this Capsicum annuum cultivar is similar to virtually all types of pepper plants in that it prefers warm growing conditions.
These peppers have a heat rating about 30,000-50,000 Scoville Units.

Contains approx 15 heirloom seeds
*NEW ARRIVAL* for 2022
Planting Instructions: Seeds should be sown in warm conditions, covered very lightly (depth of ¼ inch) and kept reasonably moist until seedlings emerge. 
Grow in full sun. Great for containers.
Related Products