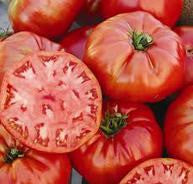 Mortgage Lifter Tomato
$ 2.95
80-90 days.  Indeterminate.  Kentucky family heirloom grown since the 1930s by three generations of James Halladay's family.
In a trial of 25 Mortgage Lifter types, Halladay's produced the best crops of 1-2 pound pink beefsteak fruits. Exceptionally meaty and typically crack-free.
Great old-fashioned tomato flavor.
Contains 25 heirloom Seeds
Related Products
Worth it
This is simply the best tasting pink beefsteak tomato I've ever eaten--and I'm 70 years old and grew up eating garden grown tomatoes. It needs shade cloth or afternoon shade to do well here in our intense Arizona heat but it is so worth it.