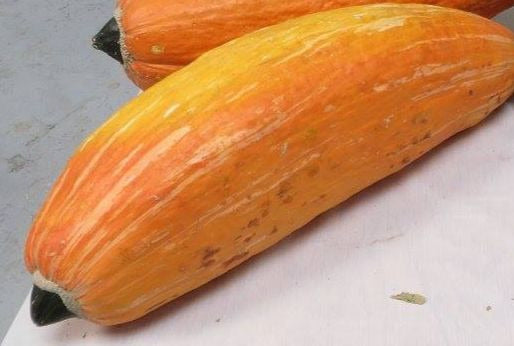 Gete Okosomin Squash
$ 6.95
Available after September 1st 
Gete-okosomin (pronounced GATE-ay-Oh-COHS-suh-min)
From the Smithsonian, 
The Gete-Okosomin squash (which roughly translates to "big old squash") can yield fruit that weigh more than 30 pounds. The seeds come from a lineage of plants carefully tended for millennia by Native Americans, writes Alysa Landry for Indian Country Today.  The Miami Nation has grown Gete-Okosomin squash for 5,000 years, Landry reports. They were "careful stewards of the seed, taking care to hand-pollinate them and maintain their purity."


This is the squash that gained fame online and became known as the "800 year old squash" which, according to legend, seed was found in a "clay ball" at an historic site in Wisconsin. But other stories state that this squash was passed down for generations by the Miami Nation.
Contains 10 heirloom seeds
Related Products
welcome back!
After hiding 800 years this squash made a reappearance this year in my garden. What took us so long?? It is delicious, with a very slight "fruity" taste to it, way up above an expected robust squash flavor. We've noticed that care has to be taken to get it out before the first frost . . . a couple of the smaller ones didn't take it too well and had to be eaten up immediately (but they were still delicious). But we have no complaints about it, and next years can't come soon enough for us.