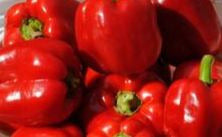 Bull Nose (Large Sweet Spanish) Pepper
$ 2.50
58 days. Early maturing heirloom Introduced in 1759 from India. 
An unusual combination of sweet and heat: the thick flesh is sweet and the cell partitions or ribs are slightly pungent.
Bull Nose peppers, botanically classified as Capsicum annuum, are an heirloom variety of sweet pepper that is a member of the Solanaceae or nightshade family. Considered to be one of the first varieties of medium-sized peppers grown in the United States, Bull Nose peppers were named after the indentation on the non-stem end resembling a bull's nose and were one of the most popular peppers in the 1800s

Contains 15 heirloom seeds 
Planting Instructions:  Seeds should be sown in warm conditions, covered very lightly (depth of ¼ inch) and kept reasonably moist until seedlings emerge.  
Grow in full sun. Great for containers.
Related Products