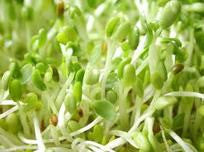 Alfalfa Sprouting Seeds
$ 7.50
From seed to sprout, Alfalfa sprouts are ready in 5-6 days and have a shelf life of 2-6 weeks.  Alfalfa is very easy to sprout and has a mild, pleasant taste.

The approximate yield for alfalfa is 7:1
Detailed sprout instructions included.
BACK IN STOCK for 2023
Related Products
Great harvest!
Very happy with these seeds! They sprouted well, very bountiful harvest. The growing directions were informative and detailed. Thank you!